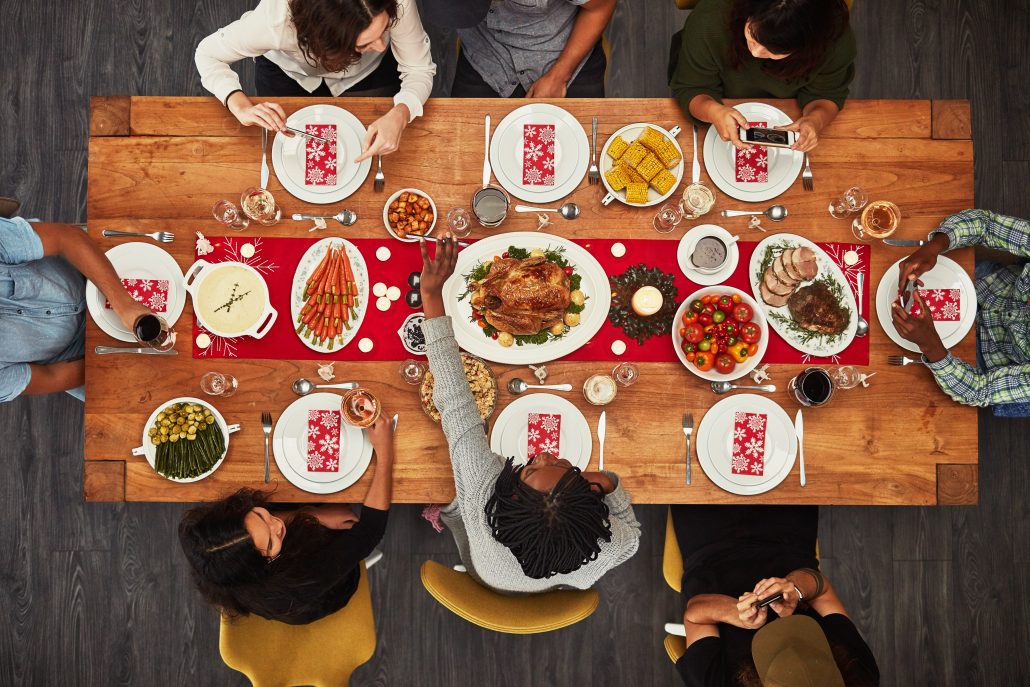 For some of us, the holidays can be hard. Whether you are new to sobriety, in long-term recovery, or just a human being who just happens to live in a world with holidays, certain times of year can bring on a lot more stress than you would prefer to deal with. Thanksgiving can be one of these difficult times of the year. Some of us find it overwhelming to be surrounded by so many relatives and close friends because it can lead to high-stress social situations. Like when that one uncle brings up politics or that one aunt talks about their much more successful child. Or like when the parents bring up that time you pawned all their jewelry and crashed their car running from the cops.
No? Okay so maybe that is a very specific example.
Either way, Thanksgiving can be tough. Some of us in recovery from drug or alcohol addiction might not be able to spend this holiday with our families. We might feel isolated or even left out if our addiction has placed us in a situation where we cannot be directly present with our loved ones. Or we may find it a challenging situation simply because it is usually a day we remember drinking.
But still, there is always a great deal to be thankful for.
This week, as the holiday season comes in full force, we wanted to share 4 ways to get through Thanksgiving in sobriety for those who might be having a little more trouble than others.
Be present
Too often people forget that holiday gatherings aren't so much about the food or the partying. They are about the quality of time being spent together. Being present and in the moment will help you to actually enjoy the holiday instead of stressing over it. Even if you are not physically present with your family, being more available to those you are able to be with can make Thanksgiving in sobriety more enjoyable.
And you can still be available for your family and friends that aren't around by reaching out over the phone and giving them some of your time as well.
If you go into the holiday with the head-space of being a drag, you will probably follow through with that. But if you chose to be actively engaged in you can easily give new meaning and feeling to the experience.
Decide how to talk about it
Sometimes the fact that you are in recovery will come up, so you should decide how you want to talk about it… if you want to talk about it. The great thing is you aren't required to tell anyone who doesn't know. You don't have to explain yourself. Just let people know you don't drink.
When it comes to family or friends who do know about you issues with substances, decide how comfortable you feel with this conversation. Be willing to address concerns, but also set boundaries. You still have to take care of yourself, especially in early recovery.
Try to focus the conversation on the good side, like the fact that you are enjoying a Thanksgiving in sobriety with them. Some people will want to focus on the bad, but you can still decide how you are going to talk about it. To stay in the spirit and be present, talk about the solution you have now, not the problem you were facing.
Include your support system
Having a strong support system is a vital part of long-term recovery. Whether it is relatives, close personal friends or people from the recovery community, having people to have your back definitely helps. Holidays are all about connection, so stay connected to those who share your experience. Let your family members know you're going to be leaning on them for support if things get hectic.
Also, have people outside of the family to reach out to. If you are involved in a recovery fellowship or support group, connect with your peers to learn how they handle similar situations. Don't be afraid to ask for help. Include people who know what you are going through and who can help keep you on track.
Get in the Thanksgiving Spirit
One way to enjoy Thanksgiving in sobriety is to actually commit to the idea of Thanksgiving. This is a holiday all about being grateful for what you have and giving thanks and love to those closest to you.
If you are grateful this Thanksgiving, be sure to give some of yourself. You can help the family with making food or setting up, or you can go beyond that and give in other ways. Sometimes people in recovery find ways to volunteer for the holidays. Participate in some form of community activity that gives back and helps those in need.
Being enthusiastic about the opportunity to share this time with your loved ones and give to others can help you overcome the hang-ups you might encounter. If you can try to get in the spirit of the holiday, it won't be so much about drinking or stressing over everything and more about spending the time with the people you love.
The spirit of the holiday is to celebrate what you have. If you are sober you have something pretty significant to be celebrating, right? Thanksgiving in sobriety lets us reconnect with those we love and show gratitude for the second chance at life. It shouldn't be all that hard to get into the spirit of being grateful. The real good feeling comes from loving and giving back.
We would like to offer you the FREE GIFT of a checklist to help decipher if you are helping or hurting a loved one who is struggling with addiction.
Always remember during the holidays to take care of yourself. For Thanksgiving in sobriety be grateful for how far you have come. If you are still struggling with an addiction, now is the time to get help, so that you can give your loved ones the peace of mind they deserve so you can have even more to be thankful for.  If you or someone you love is struggling with substance abuse or addiction, please call toll-free now.